Phil Collins takes on giant skydive for Kirkwood Hospice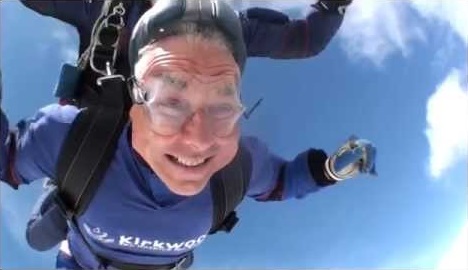 I'm sure we all know someone who has been affected by a life threatening illness.
Myself and our family run business would like to raise as much money as possible for the Kirkwood Hospice in Huddersfield, who do a fantastic job in helping support patients, family and friends.
Phil Collins (Director) took part in a sponsored Skydive on 13th July 2014 at Hibaldstow which was not only a lifelong ambition but raised money for a worthwhile charity.
The total cost to take part was £395 which includes a £195 minimum donation to Kirkwood Hospice.
Phil personally payed the cost of the Skydive which was £200 to Target Sports and an amount of £200.00 has been donated by our company Floor To Ceiling Fitted Furniture of Huddersfield, this ensures that every penny raised will go direct to Kirkwood Hospice of Huddersfield.
The total raised was – £1,511.70
Thank you to family, friends and customers who took the time to sponsor Phil.
http://www.examiner.co.uk/news/west-yorkshire-news/phil-collins-takes-giant-skydive-7024288